Inlays and Onlays are a type of treatment that restores just a piece of a tooth for restoration. The surface of a tooth may have been damaged due to decay or trauma, but not enough so to need a full crown (where the entire surface of the tooth needs to be restored). When only part of the surface is affected, a solid piece of material can then fit the specific size of the cavity to restore the tooth. The difference between inlays and onlays depend on how much surface of the tooth needs to be restored.
Learn More About Inlays/Onlays
To learn more about this restorative treatment and to see if it is right for you, contact us today. Dr. Turner and our staff are here to give you a fair assessment of your teeth and provide the optimal path forward for a successful treatment.
Read About The Technology Behind Our Treatments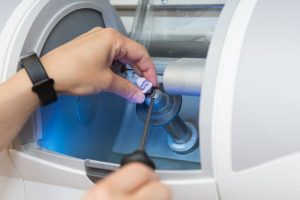 CEREC is a CAD/CAM (computer-aided design and computer-aided-manufacturing) cutting edge technology partnered with a mill that enables us here at Colfax Dental to create crowns, inlays, onlays, and veneers in one visit. This advanced machine has top-notch imaging and milling accuracy, allowing the delivery of a very precise fit for our patients. Read more about CEREC here.