Veneers consist of a very thin layer of material placed over a tooth to improve the aesthetics of a patient's smile. Dental veneers can also serve to protect the tooth's surface from damage, as they are a sort of shell on the tooth. Our patient's enjoy the option of veneers when they have cracks or chips in their teeth, misaligned teeth, discolorations, or gaps between teeth that make their smile less than perfect. Dental veneers are a great option for those looking to enhance the look of their smile.
The process begins with a consultation with Dr. Turner and our expert staff at Colfax Dental. Dr. Turner will sit down and discuss your desires for your teeth and will assess your current case and offer suggestions. If veneers are the right restorative treatment option for you, we will put together a plan so we can help craft the beautiful smile you are looking for.
Learn More About Veneers
To learn more about Veneers or to see if they are right for you, contact us today. Dr. Turner and our professional staff look forward to creating your best looking smile.
Read More About The Technology Behind Our Treatments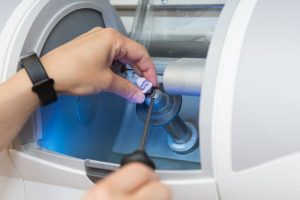 CEREC is a CAD/CAM (computer-aided design and computer-aided-manufacturing) cutting edge technology partnered with a mill that enables us here at Colfax Dental to create crowns, inlays, onlays, and veneers in one visit. This advanced machine has top-notch imaging and milling accuracy, allowing the delivery of a very precise fit for our patients. Read more about CEREC here.