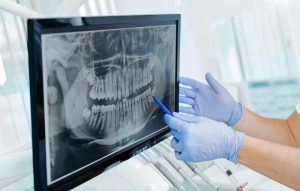 You may be familiar with the often-seen photo of your teeth that show in a light color against the dark black background of the image when you make a trip to the dentist's office. These are the Digital X-rays taken of your teeth that allow Dr. Turner or a staff member to find cavities, hidden dental structures, bone loss, and other problems that may not be able to be fully diagnosed from a visible inspection of your mouth. The digital image allows Dr. Turner to take a closer and more detailed look at any problem areas since the image shows the roots of your teeth as well as your tooth alignment and contact areas. The fact that the image is digital versus a printed model, the traditional version, allows us to magnify and zoom-in on problem areas to offer more accurate diagnosis and treatments.
Why Get Digital X-Rays?
During an oral exam, we are looking for any sign of possible tooth decay or other problem areas so they can be properly treated. It is possible for tooth decay and periodontal disease to be missed during any standard visual inspection of your mouth without the usage of radiographic equipment such as our Digital X-Ray machine. When we take these Digital X-Rays of a patient's mouth, we are able to ensure that any hidden decay or other hidden problems are detected at the earliest possible instance, preventing future troubles.
If you'd like to learn more about our technology or have any questions, give us a call and our staff would be more than happy to speak with you.