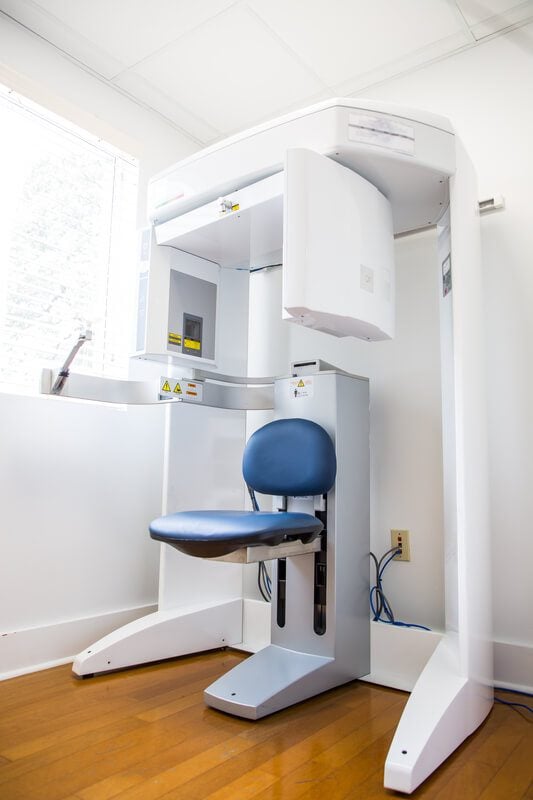 CBCT (Cone Beam Computed Tomography) 3D X-ray technology is a specialized dental X-ray machine that allows us to take three dimensional images of your teeth, soft tissues, nerve pathways, and bones in one scan. The X-ray beam moves around the face of the patient in a 360 degree rotation, producing multiple high-quality images from all viewpoints to create a single 3D image.
The CBCT X-Ray is used when conventional dental and/or facial X-rays are not sufficient. This technology is often used for more complex cases that involve surgical planning for impacted teeth, planning for dental implant placement, diagnosis of dental cavities, root canal treatment diagnosis, assessing bone structure and tooth orientation, diagnosis of dental trauma, and more procedures that require a comprehensive and detailed 3D image of a patient's teeth, bones, and/or soft tissue.
This cutting edge technology allows Colfax Dental to provide expert planning, diagnosis, and treatment to our patients when conventional 2D X-rays are insufficient in more complex cases. Having this imaging technology in-office offers the utmost convenience and saves our patient's time, since they no longer have to make a second appointment to visit a separate imaging center.
If you'd like to learn more about our technology or have any questions, give us a call and our staff would be more than happy to speak with you.