Same-Day Crowns, or "Crowns In An Hour" is the creation and placement of a patient's crown in just one visit. When you walk in for your appointment, Dr. Turner will first work on your tooth, removing all tooth decay and shaping it accordingly. Then, utilizing our CEREC machine, we will take digital images of your tooth to start the design process. After we collect all the design images needed, your crown is then designed on our CAD/CAM machine. This design is then passed over to it's corresponding mill, and your crown is fabricated, on-site, within 15 minutes. Dr. Turner will then place your newly-fabricated crown in, completing the procedure in a single visit. As the only dental office in Colfax with CEREC and CBCT 3D X-Ray technology, we are proud to offer top-of-the-line care partnered with convenience to our patients.
The Technology Behind Same-Day Crowns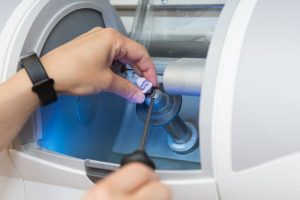 CEREC is a CAD/CAM (computer-aided design and computer-aided-manufacturing) cutting edge technology partnered with a mill that enables us here at Colfax Dental to create crowns, inlays, onlays, and veneers in one visit. This advanced machine has top-notch imaging and milling accuracy, allowing the delivery of a very precise fit for our patients. Read more about CEREC here.
Learn More About Same-Day Crowns
To learn more about our Same-Day Crown procedure or to see if it is right for you, contact Colfax Dental today. Dr. Turner and our staff are happy to answer your questions and to further discuss details of this procedure.